How to Avoid
" Roofing Contractor " Scams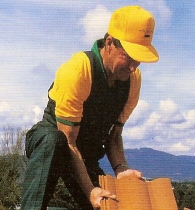 It's a sad but true fact that construction scammers exist. This is particularly so in the area of roofing. No matter what part of the country a person is in, if they own a home, they're likely to run into a roofing contractor scammer at one point or another.
Here's where you can locate some reputable roofing contractors: Find Roofing Contractors
Roofing contractor scammers tend to target the elderly, but no one is immune. In Florida, for example, these bad guys go door-to-door offering their services before or during hurricane season - right when homeowners are particularly paranoid about the integrity of their roofs. The "roofing contractor" offers to do a free inspection, reports trouble (sometimes creating that trouble themselves) and then offers to repair or replace it for a certain amount. Once the homeowner pays the advance fee, the so called roofing contractor is never seen or heard from again. It's a sad tale that's heard the country over.
Avoiding a roofing contractor's scam isn't difficult if homeowners arm themselves with facts and take steps to only deal with only reputable companies. A good rule of thumb is to never let anyone do a "free inspection" on your home unless their credentials have been checked out. If you didn't solicit them, be very, very wary. Absolutely, do not let someone on your roof to "inspect it" if you didn't call them in the first place.
Here are other things to avoid when dealing with roofing contractors to ensure a legitimate company is hired:
Firstly, only employ a licensed roofing contractor. Check out their licensing with state or county agencies before even allowing an inspection and then:
Insist on a written contract before work is performed and request a detailed, written estimate as well.
Do not, ever, pay in cash.
Don't pay more than 10 percent of the job's total as a down payment or more than $1,000. Roofing scammers take the money and run.
Be extremely wary of contractors who go door-to-door.
Don't deal with a roofing contractor who require cash only payments.
Don't deal with a roofing contractor who requires that customers allow the use of "left-over" materials. These can possibly be stolen.
Check to see if there's a professional roofers association in your area.
There are literally thousands of reputable and conscientious roofing contractors in the country. Sadly, there are some who are scammers and even those who present themselves as roofers who wouldn't know a shingle from a piece of plywood. Protect yourself and your home from these people by proceeding with any major repair or replacement job with extreme caution.
A good roofing contractor will expect to be checked out and will understand and respect the wariness.
© Copyright 2009 - All Rights Reserved - How to avoid roofing contractor scams.