Tips for hiring and how to find a roofing contractor
A great roof adds value to your home !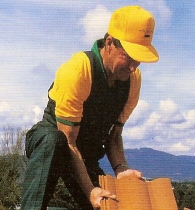 When it's time to replace the roof most homeowners need to be careful when hiring a roofing contractor as a wrong decision could mean money lost and a shoddy job being done, which can lead to a nightmare.
Find Roofing Contractors
A roof is more than something over your head. It's an integral part of a home's design, style and beauty. So, it's important that you get a roof that's stylish, practical, efficient, beautiful and tough. You will want a roof that will meet the demands of the harshest weather conditions so that the finished roof will give you the protection from the elements.

Executed properly, your new roof will enhance the presentation of your home's external appearance, restore its security and improve its energy efficiency as well as adding to its value.

Unfortunately, experience shows that some of the most common problems homeowners face include obtaining misleading advice from some roofing contractors; disruptions to normal life patterns during the job and delays in completion.

However, for all the thousands of reputable roofing contractors out there, there are a few that are scammers. Therefore, you need to take some precautions. First of all obtain some quotes and do some checking before hand
ing money for a roof job over to a roofing contractor.
Before deciding on a roofing contractor, check at least two or three different contractors and get written quotes that explain what the job will entail and include:
Also:
· Check into the roofing contractor's business address. Make sure the telephone works, that there's a tax ID and business license.
· Ask for proof of insurance. Make sure they have liability coverage and so on.
· Make sure the state licensing of the roofing contractor is up to date.
· Check with past customers to see if they were pleased with the work completed.
· Make sure the roofing contractor is financially stable.
· Find out if the roofing contractor belongs to professional associations and remains in good standing.
· Request everything in writing. Before moving forward with a job, get a contract.
· Don't always go with the lowest bid. Check into other factors first. The cheapest roofer might not be the one with the right licensing and a good track record.

Remember, hiring a roofing contractor is a big undertaking. Your entire life is housed under the roof, so making sure the job is done right is imperative. It's okay to check into several different roofing contractors, get estimates, check backgrounds and then make a decision.

Also be certain the roofing contractor you hire is one you're comfortable with. If you don't feel comfortable, steer clear. If the roofing contractor asks for only cash payments, completely up front, be very wary. A good roofing contractor may require a deposit, but having to pay for work before you see it, is almost never a good idea.

If a roofing contractor offers financing, which is typical, do pay close attention to the remodeling contract. Read the fine print and know what you'll get for the job, what the interest rates of the financing deal are and what to expect if any penalties arise.
© Copyright 2009 - All Rights Reserved - Tips for hiring a roofing contractor.