Picking a Plumbing Contractor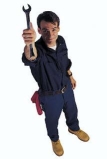 You wake up in the middle of the night to that dreaded sound - drip, drip, drop. Or perhaps, your toilet's started running over so frequently you're pretty sure you could have filled a pool a few times over with the spillage.
You need a plumbing contractor !
But, how do you find the best one for the job and ensure you're getting someone you can trust and not a plumbing contractor who will soak you along the way?
PlumberSurplus has Thousands of Plumbing Products. Point.Click.Plumb.™ Today & Save! www.PlumberSurplus.com
Few contractors make homeowners more nervous than a plumber.
This is perhaps due to the fact few homeowners know much about plumbing, but rest assured there are very reputable emergency plumbing contractors in the business - those who take their jobs and their customers seriously.
Finding the right plumbing contractor involves a lot of the same suggestions for hiring any type of contractor. It pays to do some homework and interview some candidates before deciding on a winner for the job. In fact, it's really the only smart way to proceed.
Before diving into a contract with a plumber, get at least three estimates and make sure you get a full scope of the project. If one plumber's bid is a lot lower than the others, find out why. Paying more might be worth it to ensure quality materials, service and expertise.
Before selecting the winning plumbing contractor make sure the company is licensed and insured. Check with local or state licensing authorities and even call the Better Business Bureau to make sure no complaints have been filed against the plumbing contractor you want to hire.

The last thing you'll want to do before making a decision is to check references. Ask to speak to some of the plumber's former customers and see how they feel about the work performed. Find out if the final price came in near the estimate, if the work was done when it was supposed to be and if there were hidden costs.
Before putting the chosen plumbing contractor to work, make sure there's a written contract - especially for big jobs. Read the fine print and make sure your rights to make a claim are protected.
In general, if a plumber requires payment in full up front, cash payments, won't produce licensing and insurance proof and so on, that's not the plumber for you. Being wary only makes sense, no matter what kind of contractor you're needing to hire. A little homework up front can help you ensure you hire the best, most reputable plumbing contractor for the job.
© Copyright 2009 - All Rights Reserved - Picking a plumbing contractor.