Take the stress out of
building a new home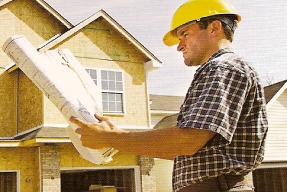 There's a lot of stress when building a house or having a large renovation project undertaken. There are money concerns, construction details, permits and subcontractors to concern yourself about. And that's not even mentioning the fact that most homeowners simply don't have the skills to see a big project through from beginning to end.

A good general contractor can step in and make the process go so much smoother. By bringing his or her expertise to the table, a general contractor takes over the planning and all the other details when constructing a house. He or she will oversee the project and ensure that things get done when they're suppose to and how they're supposed to.

Anyone who has gone through a construction process knows how difficult it can be to keep up with all the various steps and problems that have to be handled. This is especially so in the case of permits and government inspections. Once again, a good building contractor will handle all of these details, taking the worry and stress off the homeowner.
The following are the basics that a good building contractor will do for a homeowner during a construction project.
· Ensure that plans for the construction project are accurate and workable. This means working with and liaising with the architect or designer to make sure what the homeowner wants is what he or she gets.
· Permits. General contractors should understand the ropes of local government offices and they generally will handle the entire process on behalf of their clients. This is good news for homeowners who don't want to deal with government red tape or don't know how.
· Scheduling. A good general contractor will ensure that all steps of the construction phase take place when they should and how they should.
· General supervision. Building contractors worth their weight will inspect jobs personally along the way, making sure that all trades involved do their parts up to par.
· Communication. Smart contractors communicate with clients every step of the way. They will explain the process and give regular reports on progress.

Most homeowners can pull permits for personal construction projects and even make attempts to hire the subcontractors necessary to get the job done. Unfortunately, most people simply do not have the time or the know-how to properly supervise a big job. That's where a general contractor comes in and can really save the day.
© Copyright 2009 - All Rights Reserved - Take the stress out of building a new home.