The use of subcontractors
and general contractor
when adding an addition to your home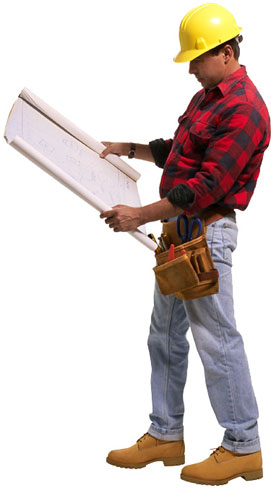 If you've decided to go it alone when putting an addition onto your home here's some basic guidelines for bringing in the best general contractor and subcontractors before you get started.

There are many trades you will have to deal with as you proceed from the concept to the final inspection.

For starters an addition will require an architect or designer. Then there's site preparation work, masonry, framing, electrical, roofing, finishing, painting, carpeting and, if necessary, plumbing. Remember, that's a lot of subcontractors you will have to deal with.

Firstly, you need to have a design. Without it, no general contractor can get started and you won't be able to obtain permits with your county or city government office to get the project going.
You'll have to contact an architect.
You should contact an architect or designer to get the floor plan for your addition going. Also, bear in mind that some work might be on your existing house, and likely will, unless the addition is free-standing.

Once an architect has drawn up the plans (including any alterations to the existing structure), it's time to get the proper permits in place. Your architect is likely to help direct you on the technical order for hiring subcontractors and maybe may even suggest some good ones, but you'll need to know a few things as well.

In general, before letting subcontractors go crazy, you'll want to determine whom you intend to hire before the first shovel hits the dirt. Scheduling the various trades in advance is vital or you'll find your site work done and no one available to pour your foundation even though the framers are ready to come in the next day.

It sounds like a lot of work and it is. This is why so many rely on the general contractor to oversee big construction jobs from beginning to end. They have the contacts, the scheduling know how and are knowledgeable on who to bring in and when.

Going it alone is more than possible, but make sure you have everything lined up before work gets started. Rely on your designer or architect to help guide you and make sure your permits and inspections are in order.

An addition to a home is a great way to make your existing property more workable for you and your family. Taking the job lightly, however, can turn into a real problem for you, so proceed with caution and use patience and good judgment along the way.

There's nothing simple about putting an addition onto a home. That's why so many people hire general contractors to handle the details. These specialists will take care of everything from enlisting design support and pulling permits to bringing in the subs and scheduling the final inspections.
If you're thinking about building a new house, or remodeling and extending an old one, a residential architect can be of considerable help.
© Copyright 2007 - All Rights Reserved - Adding an addition to your home