The House Remodeling Plan

A remodeling contractor
cannot read your mind !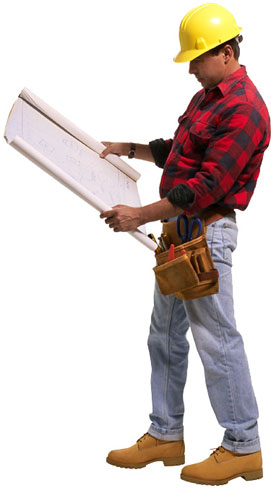 Finding the best person for the project; a contractor who will take care of all the details, often begins with you.

Unless you have a clear cut and well-defined house remodeling plan, with a set of overall goals in mind, no contractor in the world can hope to meet your expectations when the job's completed.
Clearly decide what work you want undertaken
by your remodeling contractor in your project !


Before you begin to find the best remodeling contractor or building company to handle the job, it's up to you, the homeowner, to clearly decide what must be included in the project. For example, if your goal is to remodel a kitchen, statements about appearance, materials and design must be set. If you want an eat-in kitchen with tile floors, European hardwood cabinets, granite countertops and stainless appliances, then these need to be stated. A potential contractor is not a mind reader.

Additions and Renovations at CalFinder.com



It's also essential to set a realistic budget and to convey you're the other requirements you'd like providing the budget will allow. For example in a kitchen you may like to have specialized lighting or even an upgraded floor.


There's no need to concern yourself about having an actual blueprint in place before speaking with contractors. The final details can be worked out once a remodeling contractor is hired. In fact, in many cases the contractor can work with a designer for you or liaise with an architect. But, the more information you offer up front, the more clearly the contractor can quote on your home remodeling plan ideas and tell you what you can and cannot do within your budget.

With home renovations, the secret of success lies in a careful house remodeling plan based on a solid understanding of what you want to achieve. This includes having a clear focus on what must be included in your project as well as any other features you would like to include, if your budget allows.
Addition and Remodel Contractors
So, before meeting with a remodeling contractor,
answer these questions:
· What realistically can I spend on this house remodeling plan?

· What am I trying to achieve and why?

· What is my ideal design, appearance and material choice?

· What extras would I like included if possible?

· What are my project's priorities? Must-have renovations? What things would I like but could live without?

· Also are there other planned renovations in the future that should be kept in mind with this project? How will they fit into the home's overall design?

A good remodeling contractor will handle an entire project from start to finish. The contractor should be given clear instructions and a complete picture of what a homeowner wants and hopes to achieve, otherwise the job will be impossible. Even the best contractor cannot please a customer if communication isn't clear.
Of course, there are different types of contractors, so choosing the right kind of contractor for the job is important.

© Copyright 2009 - All Rights Reserved - House Remodeling Plan, Remodeling Contractor