Electrical Wiring Contractor Know-How !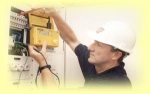 No matter how much you know about home improvement and repair, there are some jobs that simply require the use of a knowledgeable electrical wiring contractor. When it comes to electricity, this is absolutely one of those jobs unless you have expertise in the trade.
Not only is electricity dangerous for an uneducated person to deal with, it can be against local building codes for an unlicensed individual to mess around with large electrical projects. The reasons for this should be obvious - improperly completed electrical work can lead to permanent damage to a home's electrical system, fire and even death.
So, if you find yourself needing new wiring, have smelled electrical type burning in your home or simply realize you have too many appliances running on the same circuit and need some adjustments to your system, it's time to call an electrical wiring contractor.
Knowing you need to hire an electrical contractor and actually finding a good one can be a long process, but one that requires some common sense and checking out to ensure the best person for the job is hired.
In general, unless the job is an extreme emergency, it's a good idea to get several different written quotes that fully explain the scope of the job and what's to be expected. Go for at least three different companies if possible.
As the companies work on their quotes, you can do the rest of your pre-hiring homework. Check out each company and make sure they have the proper licensing and insurance. Check their references and make sure no complaints have been filed against them with the licensing authorities, professional organizations and even the Better Business Bureau.
Since very few homeowners know much more about electricity than how to change a fuse or flip a breaker switch, making sure you've found a knowledgeable and reputable electrical contractor will help alleviate a lot of concerns about shoddy work and even being taken for a ride with a bad quote.
Once you've checked out the companies and their quotes come back in start comparing the options. Going with the lowest bid isn't the best idea if the bid doesn't come from a good company and doesn't include the full scope of the job. Make sure you understand what each bid includes and get that in writing.
Before setting an electrical contractor to work on a big job, such as a whole house rewriting, get a written contract and understand your rights and responsibilities. You might need to vacate your home for a day or two if the entire house is being redone, so you'll want to know this in advance, too.
In general, it simply makes good sense to check out a contractor, electrical or not, before signing on the dotted line. When it comes to electricity, which can be dangerous if it's not properly handled, this is even more so true.
© Copyright 2009 - All Rights Reserved - Electrical wiring contractor know-how.